Day 9!
So, today was simply: Bachelor finale day! There's a group of us that all get together and watch every week, and this week was special because it was the finale! I love to see everyone's reaction to show and hear all the commentary. This is a show you have to watch with other people.
For the longest time, I was not a very big Bachelor or Bachelorette fan. I thought it was just unnecessary drama and crying. But what I've come to learn is that is unnecessary drama and crying and that is what makes it wonderful. Sometimes, the show drags on for far too long. But there are so many good moments that just make me laugh. (and occasionally feel a little bit- I have a heart after all)
There is a part of me that really wants to be on this show. And every time anyone starts anything I just want to look at the camera and do this: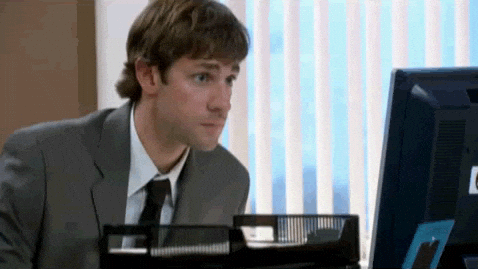 Basically, I just want to be Jim on the show. Looking at the camera and wondering what is going on around me. Or I want to be like the dolphin girl this season. Just having fun. There are very few of those girls on there.
Congrats to Vanessa. I hope you're happy! Nick- hope this is the last time I'll see you on there.
Till tomorrow.